NJSFWC Special State Project 2022-2024
Emmanuel Cancer Foundation
Visit Emmanuel Cancer Foundation's website.
"Like" Emmanuel Cancer Foundation on Facebook.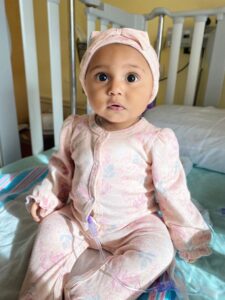 The Emmanuel Cancer Foundation (ECF) provides New Jersey families facing the crisis of pediatric cancer a place to turn for comfort and support through professional in-home counseling and a uniquely tailored package of assistance – all free-of-charge.
Each year, ECF helps hundreds of families in New Jersey with a free package of support services. They assist any New Jersey family with a child who has cancer ages 0-18, regardless of race, creed, socioeconomic status, or any other demographic restriction. They continue helping the families for as long as they need it, whether it be one month or 10 years. There are no applications, forms, or other red tape for a family to deal with – they strive to make the delivery of services as quick and seamless as possible.
To date, ECF has assisted over 2000 families.
ECF Services
In-Home Counseling
They provide professional counseling, emotional support and advocacy assistance free for the entire family.
Material Assistance
Through four Regional Centers, they work with volunteers to collect and distribute groceries, toys, clothing, household items, and birthday and holiday gifts.
Emergency Financial Aid
Emergency financial assistance can help families with urgent needs such as paying rent, utility, phone and insurance bills.
---
NJSFWC Special State Project 2020-2022
Operation Chillout
"No Borders, No Boundaries"
OPERATION CHILLOUT is New Jersey's oldest (and only) all-volunteer mobile outreach for homeless veterans, men and women, on mission since December 21, 2000. Its motto is "no borders-no boundaries." Its mission is to respond to the crisis of homelessness with direct compassionate actions.
---