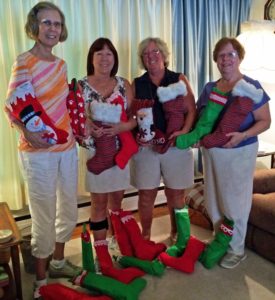 The Civic Engagement & Outreach Community Service Program encompasses a wide variety of projects affording our members numerous opportunities to give their support and volunteer. There are three main focus areas in this Department.
The Military - be it active, our veterans, or honoring those that have passed.
Patriotism - participate in celebrating National Holidays, encouraging members to vote, and assisting in the voting process.
Safety – educating members of our community on ways to stay safe. Examples are Safety Town, bike, fire, any type of child safety, driver safety classes, supporting MADD, and teen driving awareness.
Club Projects
Operation Holiday Stocking is a statewide program that our club uses to support our troops. Each year we fill 50 Christmas stockings that are shipped to troops to brighten their holidays.
Day of Service: We participate in two days of service annually, the GFWC day in September and the National Day of Service on Martin Luther King Day. For both of these we dedicate our efforts to food insecurity by collecting nonperishable food items for local food pantries.
South Jersey Dream Center: Our club continues an ongoing food collection for the local residents served by the Dream Center.
Wreaths of Remembrance: Every year our club sponsors and helps lay wreaths at the Gloucester County Veterans Cemetery in Williamstown to help remember those who served.
Women's Suffrage Project
In 2021, the club completed a video to celebrate the 100th anniversary of women's suffrage. Originally it was scheduled to be a live program for high school students in April of 2020, including voter registration. The project was postponed because of the pandemic, so this year several club members worked with the high school to produce a video. This video has been incorporated into the high school curriculum and will educate students into the future.
---