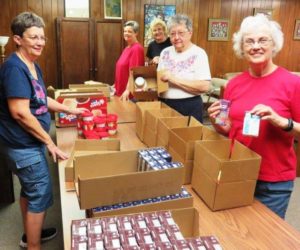 Health & Wellness Community Service Program is designed to inform members of issues that affect the well-being of individuals, families and communities. Volunteer efforts provide opportunities and resources to meet and address needs.
Through this program, our club develops and implements creative projects that:
Promote a healthy lifestyle
Increase awareness, prevention, research, and treatment of disease
Target personal development
Address the issues of hunger, inadequate housing, and homelessness
Prevent or correct financial difficulties
Here are a few of our Health & Wellness Projects:
Special Club Project, Family Promise of Gloucester County, is one of our club's strongest efforts is in the area of preventing homelessness and caring for homeless families. Read more on our Family Promise page.
Adopt-a-Family: Each year the club adopts three families with children for the holidays. Volunteer "elves" purchase Christmas gifts for the children and add a few gifts for the parents, plus grocery store gift cards.
Pajama Program offers at-risk children the unconditional, magical gifts of new pajamas and new books so that they can enjoy the greatest benefit of a loving bedtime and peaceful good night: a fulfilling good day. We have collected pajamas and books.
Angels Community Outreach has received our help collecting grocery bags filled with food items, donating school supplies, along with socks and underwear ("Toes and Tushies"). We donated costumes and snacks at Halloween and food, clothing, and money throughout the year.
South Jersey Dream Center reaches out to low income and struggling families with food, clothing, baby and household items, and most of all HOPE for a brighter tomorrow. We have an ongoing collection of food and household items for this program.
Greater Woodbury Cooperative Ministries is a nonprofit organization which supplies food and other items for families. The club makes an annual donation for the food pantry and the Lunch Box Program, as well as working hands-on with the organization. We participated in the "Mardi Bras" project and "Warm Hands + Warm Heads = Warm Hearts" project.
---