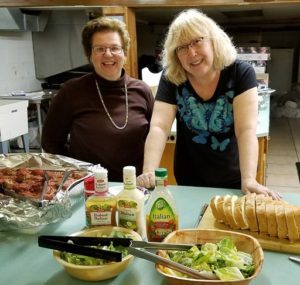 The mission of Family Promise of Southwest New Jersey is to provide homeless families an opportunity to achieve stability by providing shelter, food, case management, and hospitality while simultaneously utilizing resources within local congregations and the community.
One of our club's strongest efforts is through Family Promise. Homeless families sleep in local churches, a different one each week, while seeking a permanent situation. Our club provides a duffel bag for each person entering the program, making it easier for them to take their belongings from church to church.
Our club occasionally provides a meal for local Family Promise guests. We also have several members that are regular volunteers with this charity, doing things like:
Providing meals for up to 14 guests
Driving the van that takes participants back and forth from their Day Center to the host church
Sleeping overnight at church with Family Promise guests
Spending time in the evening with guests, playing games, watching TV or just talking
Visit the Family Promise web page.
"Like" Family Promise on Facebook.
---