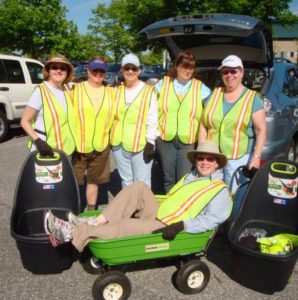 The Environment Community Service Program is designed for members to gain an appreciation for the environment. Members are encouraged to:
Increase awareness of conservation issues
Work to preserve, maintain and restore our natural resources
Preserve habitats for plants and animals
Participate in endeavors to beautify and sustain the world around us
Our natural resources include but are not limited to water, trees, plants, air, land and animals. Members initiate and participate in projects to serve, care for and respect the world we share.
What we do:
Recycle! We recycle at home, but also have a special collection for cosmetic and healthcare items that aren't recyclable through our township.
Beautify our Homes & Yards: Our club sponsors flower and plant sales several times a year so that our members can beautify their homes and yards.
Beautify our Community: We have also participated in the Gloucester County Clean Communities program, picking up litter from roadsides.
Grow for the Needy: A few of our members worked in a community garden and donated produce to a local food pantry.
Wildlife Conservation: We visit local wildlife refuges and participate in their special events to raise awareness.
---