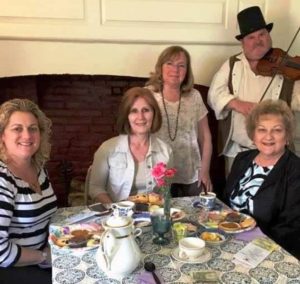 Almost every month we sponsor some type of social event for members that are interested–everything from book clubs to museum visits to Longwood Gardens. We also like to do craft projects like painting and making wreaths and centerpieces. And of course we love to eat out!
Here are a few of the social events we've done over the past few years:
Book club about every other month, usually on Zoom
End-of-School Lunch at a local restaurant
Dinner and a Movie, or movie & dessert
AAA Trips: We've sponsored several day trips through AAA and received a donation
Winery Tour & Tasting: Several local wineries have served us
Colonial Tea at the Whitall House, and other visits to local tearooms
Senior Health Day at RiverWinds, followed by lunch
Devour Desserts chocolate tasting
Longwood Gardens Holiday Lights Tour with lunch
Art/Craft Nights: Ceramic Studio Crafts, Sign-making Workshop, Halloween Lantern Craft, Snowman Painting Night, and Valentine's Day Wineglass Painting
Baking: During the pandemic we held a cookie baking night on Zoom
Gloucester County Historical Society: Downton Fashions Tour, A Legacy of Quilts, Lacing Up & Stepping Out, Dressed to the Nines
Spa Night, an evening of pampering
Museums & Attractions such as Grounds for Sculpture, Philadelphia Magic Gardens, Morven Museum, Brandywine Museum
There are many more! Most are opportunities for learning, as well as socializing and being entertained.
---