Happy June and Welcome Summer! I cannot believe we are done another year together. It has been a fun and successful year and we all have so much to celebrate and be proud of. We will not be able to meet as a club again this month as we are still on social distancing and the library is not open, but I will still send out a detailed agenda as I have done for the past two months.
"When you see something beautiful in someone, tell them. It may take a second to say, but for them it could last a life time."

Author Unknown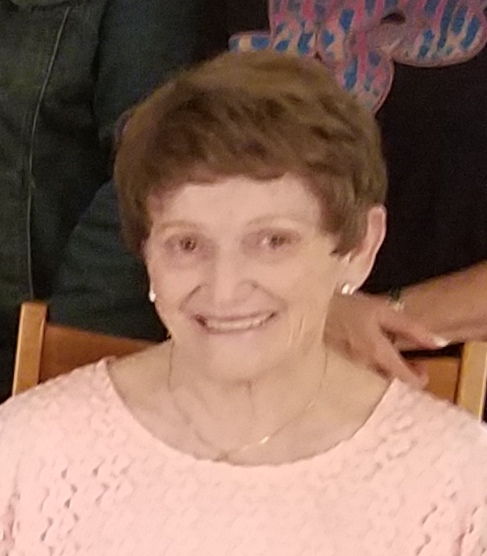 As I prepared to write my last article of the 2019/2020 Club year for Tidbits, I decided to dedicate this newsletter to Ellie Ruszkai. Probably one of the most energetic and determined ladies I have ever met, and I feel honored to have known her. As with all of you, I was saddened to hear of her passing on 5/30/2020, but I know that our last in-person activity as a club was to celebrate her 90th birthday with a club drive-by, which had her glowing and so happy. It really is the little things that make a difference in each of our lives. Rest in Peace, Ellie…you will be missed.
This is our wrap-up newsletter of the year and we are still under social distancing and for many, isolation from family and friends. Covid-19 has definitely impacted each of us differently, and I see a new normal happening as the State of New Jersey slowly opens back up.
2020-2022 Board
With that being said, our last board meeting of the year was a Zoom meeting with our Outgoing Board and our Incoming Board. It went very well and I want to recognize all of the ladies for their hard work on getting their computers set up to hold this meeting. A very big Thank You goes out to our amazing Outgoing Board—Kim VZC., Carol M., Patty W., Sandy M., Doris E., and Joan B.— who selflessly served the ladies of the WCWD for the past 4 years (or more). Your efforts, kindness and willingness to go over and above your duties was evident in everything you did each month. Thank you is so easy to say, but it comes with sincere appreciation for your contributions.
A big welcome to our Incoming Board—Linda J., Cynthia H-B., Donna B., Peg S., Sherry W., Janice M., Isabella C., and Denise H. Wow…these ladies are already getting started in their new positions and I know we are going to have an amazing two years with these dynamic and eager women. They have so many great ideas and positive vibes going. I can't wait to get started. I also want to recognize Denise H. who hosted our meeting on her personal Zoom account. We are preparing to set up a club account should our social distancing continue and we have to meet virtually as a club. This will give us time to help all of our members learn how to use Zoom and get comfortable meeting with a large group on the computer screen. One month at a time…
Budget
I want to recognize Patty W. and Donna B. who took our Operating Budget, pulled it apart and aligned it with the NJSFWC guidelines, the 501c3 rules, and helped us become compliant in all areas. This was a very big job and these ladies did it virtually. I know Peg S. is going to have an easy transition with everything in place. Donna B. and Carol M. have been in constant contact with the Gaming Account and this will also be an easy transition. Probably the most trying part of the transition will be making an appointment with the bank to change the signature cards. An audit of both accounts is being set up for the end of June so that all will be ready for the new treasurers. The rest of the incoming board has been reaching out to their predecessors for the transfer of information, etc. We will definitely be moving forward in the next few weeks.
Patty W. has sent out the new budget for the 2020/2021 WCWD fiscal year. I hope all of you had time to go over the new budget and share any questions you may have with her. Our voting took place by email.
Book Club
Even though we cannot meet in person for meetings and group activities, we connected on Zoom for our Book Club. That was fun and Jody H. did a fabulous job coordinating our discussion on "The Dirty Book Club" selection. A big thank you to Dorothy A. who hosted the Zoom from her personal account. Our next book is "The Silent Patient" and our discussion will be sometime in July. Look for more information to be forthcoming.
Food Donations
Another great activity we have all participated in the last few months during social distancing was donating to local food pantries and charities. Cynthia H-B. has been very busy every Wednesday collecting food for the SJ Dream Center. As of this writing, we have donated $1,745.00 and 559 lbs. of food. Nancy B. continues to collect for the Colonial Manor Church pantry, Janice M. and Linda M. have sent out information on donating to the Center for Family Services, Chris T. has included information on items needed for Seeds of Hope, and many of you have donated to Catholic Charities, Angels of God and so many other worthy organizations.
Special State Project
Our new State Project has been selected and it is Operation Chillout. Jeannette W. is already on it and has written an amazing article for this newsletter on how you can donate during social distancing. Please read the information she has provided and reach out to her if you have any questions. I will also include this information in our detailed June Agenda.
Scholarships
Talk about working virtually and being super successful—our Scholarship Committee. Karen D. was able to reach out to Mrs. Clark at the WDHS, where she received 17 scholarship applications and with her committee, was able to choose four scholarship candidates. Thank you to Denise H. who took the applications, redid them with numbers instead of names and emailed them back to Karen, who was able to share them virtually with her committee. Each committee member picked their top 4 and then they had a Zoom meeting to choose their final four. This is dedication. These ladies are amazing. Of course this was only part of the process. As Karen and her committee cannot personally hand letters to the four scholarship recipients, Karen made a video (with the help of her husband) for the four seniors, explaining a little bit about our club and announced the names of the four young adults. The video is amazing, as is Karen! As soon as the seniors have been informed of their awards, I will share the video with all of you. Thank you to all of the members of this committee. You did an outstanding job!
Basket Raffle Fundraiser
As you are all aware by now, Nancy D. and Nancy B. have been very proactive about hosting a successful Basket Raffle at Adelphia. They recommended that we postpone our raffle to Spring and I received an unanimous response to do just that. So…as of right now, our Basket Raffle is rescheduled for April 20th, 2021. More information will be coming from both ladies as we move through the summer.
Committees
I am almost done finalizing our Committees for the 2020/2021 fiscal year. The only changes made were adding new members and removing those members who want to try something else. Many of the committees have a Chair and they chose a Co-Chair to help them throughout the year.
Thank you to everyone who signed up for different committees. This is why we are so strong and productive. We have so many willing volunteers and workers. There is still time to add you to any committee you would like to serve on. We want to see all of you serving on committees that interest you. Look for emails regarding committees that could still use members. The committees will be announced in our June Agenda.
District Council
Our June Garden District Meeting this month will be a Zoom meeting. The meeting is scheduled for Thursday, June 18th. Everyone is invited to be a part of this meeting and I will share the formal invitation when I receive it. Please check your schedules to see if you can participate. Our new DVP Jill McDonald will be sharing information with all of us, including announcing the recipients of the Order of the Lily and Honor Roll as well as club awards. Our new State President Jan Hanson will be present, as well as our Past DVP Patricia Dahl who is now Special State Project Chairman. Look for a separate article from Jill regarding upcoming events and information. The WCWD want to extend Best Wishes and Congratulations to Jan, Jill, Patricia and to all the ladies who have taken on new roles for the next two years. We look forward to working with all of you.
Our club members and their families have been touched by all of you through prayers and positive thoughts as we dealt with different illnesses, joyous recoveries and sadness. I believe in prayer and know that it is the combination of all of us that does make a difference. Keep each member in your prayers and know that yes, you do make a difference.
As I finish this article for the year, thank you goes to so many of you who have reached out to me with such positive remarks and fantastic support. It takes all of us to work together as we move to the future. There are great things coming from the State, District, and Local levels.
I know we are going to be part of some great and progressive activities.
Enjoy your summer and look for information as I will share all that comes to me through emails. With luck, we will be together sooner rather than later.
Warmly,
April