The sun is shining, weather is warming, days are longer, and club activities are returning for our members. Our April 24th hoagie lunch package fundraiser was a total win as we sold 130 lunches making our best profit to date in adding $455.00 to our treasury.
This team effort was supported by most club members in numerous donations or hoagie orders; and especially by the help and donations of our club board. All the contributions of water bottles, chips, cookies, napkins, and lunch bags helped to boost our final profit. Thank you to all our members who made donations, volunteered to distribute the lunches, solicited orders from family and neighbors, and ventured out that sunny Saturday to pick up their orders along with enjoying and talking to members that they have not seen in a while. A special thank you goes out to Sue N. who printed and prepared the much-needed labels for our lunch bags and Cynthia HB. for adding those last minute bags of chips to complete our orders.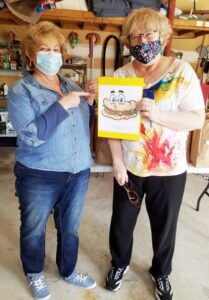 Denise H. received a certificate from our club for being our top seller in appreciation for her amazing effort as she distributed 16 lunches to her family and friends.
This was a win-win for our club as we also helped a local small business, the RED EAGLE DELI. They are ready to accommodate us any time in the future.