Scarecrow Entry
To celebrate the FALL SEASON in our West Deptford Township, the WD Historical Association and the WD Library are sponsoring their annual "Scarecrows on Parade." We entered a scarecrow lady that was assembled by our art chairman Linda Jones. Stop by the library to view our entry any time during the month of October. Pick up a few books to read and look at all the scarecrows along each light post.
Fall Centerpieces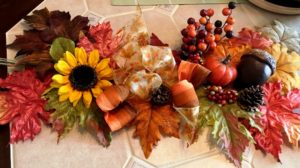 Twelve fall centerpieces were crafted for the September District Council meeting held at St. Paul's Church. The tables looked festive and completed our autumn theme.
It was a pleasure to host and decorate for this evening of fun and friendship enjoyed by all the clubs in the Garden District. Linda Jones used silk leaves, flowers, acorns, berries, pine cones, and ribbon to make the three foot centerpiece runners for each table. She enjoyed creating this project and decorating all the tables as well!