We hope these events are things that you will wish to participate in. Please check the dates, times, and keep in mind the RSVP dates where noted. If you have any questions, please reach out to a member of the social committee. If you have suggestions, we'd love to hear from you.
A big thank you to the people who came out to support our November events. The Chocolatrium Tour was wonderful. Everyone who went had a nice time. Afterward, those who were able to went to lunch at Cicontes where the fun continued into the early afternoon. We hope you'll have a great time at these upcoming December events that we have planned for you. Enjoy your "SNEAK PEEK" into 2023.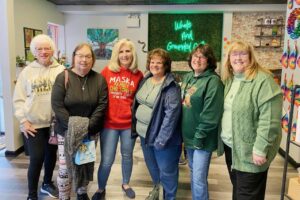 THURSDAY, DECEMBER 8, 2022: 9-11am Whole and Grounded Café 5 Delaware Street,  Woodbury, NJ. During this busy holiday season, a few of us found a few minutes to join our club sisters for a cup of coffee, tea, or hot chocolate, from 9-11am. We wanted to support this local business, as it is a woman owned, and operated business, and she supported us with a donation at our basket fundraiser.
SPARKLES NAIL SALON 47 S. Broad Street, Woodbury, NJ. If you are in need of a manicure/pedicure for the holidays, we'd like to suggest you give this business a try, as they also supported us with a donation at our basket fundraiser. Although walk-ins are welcome, during the holiday season, you might be better to make an appointment for your needs.
TUESDAY, DECEMBER 13, 2022: 5:45pm Holiday Meeting and Dinner – Hollywood Café & Sports Bar 940 Mantua Pike, Woodbury Heights. We hope to see you at our December dinner. You should have already paid and chosen your entrée. See you there!
Cookie Exchange: All information in regard to the cookie exchange has been sent to the members who have signed up to participate. If you have any questions, please feel free to reach out to Jody. We have thirteen (13) members involved in this event.
SUNDAY, DECEMBER 18, 2022: 1pm A Flutastic Christmas Concert with the Gloucester County Flute Ensemble, St. Paul's United Methodist Church. A variety of holiday classics to celebrate the Christmas season. This event is open to the public. Thank you to the club sister who sent this to me to include as a pop-up event. Being a pop-up there is no need to let us know if you are planning to attend.
A GLIMPSE INTO WHAT WE HAVE PLANNED FOR 2023…
(Several events/activities are still in the works. Once they are finalized, we will be at liberty to share. Please make sure to check your January issue of TIDBITS.)
WEDNESDAY JANUARY 4, 2023: 7pm Book Club Mtg. (Zoom) The book we will be discussing is Verity by Colleen Hoover. RSVP to Jody by Monday, Jan. 2nd to receive a Zoom invitation. Lowen Ashleigh is a writer who's offered the opportunity to complete the last three novels of a bestselling book series because the author, Verity Crawford, is unable to do so for medical reasons. When Lowen moves into the Crawford house to go over Verity's notes, Verity has been left largely unresponsive after a car accident. Verity's two twin daughters died in the months preceding Verity's accident. Lowen finds herself attracted to Jeremy, Verity's husband, and she also discovers an autobiographical manuscript by Verity, which contains dark secrets.
THURSDAY, JANUARY 12, 2023: 7-9pm Game Night at St. Paul's Church RSVP to Jody by January 9th. Now is the perfect opportunity to learn a new game you have never played, or bring out an old favorite. Margie is willing to work with a small group to teach them the art of Mah-Jongg. We will have several board games on hand. If you have a favorite game, please bring it with you, as well as your BYO drink (non-alcoholic) and snack. We are asking for an RSVP. If we don't have a minimum of ten people interested in participating, we will cancel this event.
WEDNESDAY, JANUARY 25, 2023: 10:00am Piston Diner 821 Crown Point Road, Westville RSVP to Jody by January 20th. Come in from the cold, and join us for a nice warm breakfast at the Piston Diner. The menu is tremendous, and the food very good and plentiful. We picked this local location so that no one would have to travel far in the cold weather. We need a head count by the 20th of January so that we can make a reservation. I will put out a final notice when I know who is planning to attend, so that you are welcome to make carpool arrangements if needed. Each attendee will be responsible for purchasing their own breakfast from the menu.
MONDAY, FEBRUARY 13, 2023: 6pm "Gal-entine's Day" – Gia Nina A day for women to celebrate their friendships with their lady friends. 312 S. Evergreen Ave. Woodbury RSVP to Jody by February 4th. Each attendee is responsible for purchasing her own dinner. We will choose our selection from the menu. I need to let them know by the end of Jan. our exact count. Once I have a finalized list, I will let everyone know who is going so that carpool arrangement can be made if desired. Parking limited.
WEDNESDAY, MARCH 1, 2023: 7pm Book Club Mtg. (Zoom) The book we will be discussing is Next Year in Havana by Chanel Cleeton. After the death of her beloved grandmother, a Cuban-American woman travels to Havana, where she discovers the roots of her identity—and unearths a family secret hidden since the revolution… Please let Jody know if you are interested in joining.
SATURDAY, MARCH 11, 2023 Ice Cream Love 1490 Hurffville Rd., Deptford. Please stop by for some ice cream as this is their opening day for the spring/summer season. We'd like to suggest you give this business a try, as they also supported us with a donation at our basket fundraiser. This business is owned and operated by a woman who lives in our West Deptford community.
SHARE YOUR TALENT…As always, if you have a talent/hobby that you would like to share with the group, please let a member of the social committee know. We would love to incorporate the talents from our club sisters into a social event that we can all learn and enjoy.
Your social committee wishes each and every one of you a wonderful holiday season filled with peace, love, joy, and happiness, as 2022 comes to an end and you welcome in the New Year. – Jody, Margie, Kat & Holly R.
Jody Harris, Social Committee Chair