May is here and with this month comes the promise of rebirth, warmth, and a burst of vibrant colors as the world reawakens after the long, cool months. I want to wish all of our Club Sisters a very Happy Mother's Day. Whether you are a mom, stepmom, grandmom, aunt, sister, godmother, fur mom or special friend… all of you deserve a special day reserved to honor how incredible you really are.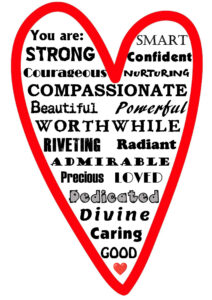 As you read these words, know that each one applies to each of you and the difference you make in the lives of so many. Never minimize your worth…you are priceless.
As I write this, I am basking in the wonderful company and delicious food that was had at Jane's Tea House today (4/30). The Social Committee hit this one out of the park today. What a wonderful way to celebrate Mother's Day and the beginning of May! These energetic ladies work so hard to come up with some amazing activities for us to get together and get to know one another. Thank you Jody H., Holly R. & Margie M.!!! The next event is Coco's Cocina Tex-Mex for Cinco De Mayo day on Thursday, May 5. Look for more information in this Tidbits.
Thank you from the incoming 2022/2024 Executive Board of the Woman's Club of West Deptford for voting us in as your officers. These ladies are absolutely amazing and really care about our club. I know we are going to have another wonderful two years.
The Installation Dinner will be held on June 14th at Hollywood Diner starting at 5:45 pm. We have a very full night that night as we will be giving out the awards from the Arts Creative and Reports as well as our installation. Please make sure that you bring your $30 to our May meeting to give to Peg S. so that we can hold your seat. A special recognition goes out to Cynthia H-B. and Jody H. for working so hard on finding an affordable venue and for the hard work that goes into the installation.
Also, for our new members and anyone else who wishes to come, the Club Orientation will take place on Tuesday, May 17th. Cynthia H-B. has put together an amazing night with guest speaker Garden District VP Marie DiMatties, who will speak about today's GFWC and the Garden District, as well as others who will speak about the club history, committees, activities and more. You won't want to miss it. As we continue to get new members each year, this will become a yearly event.
It was wonderful to join 12 of our club members at the NJSFWC Convention down in Atlantic City. Our own Denise H. took care of all computer slides and presentations for the speakers and State Board all weekend. She did an outstanding job and does not get the credit she definitely deserves. A special thank you to Carol F. who read the summaries of all of our Honor Roll recipients. Again, congratulations to Order of the Lily recipient Debbie H. and to Honor Roll recipients Sandy M., Dorothy A. and Isabella C. I am humbled to be included with such an impressive slate of honorees.
There is still time to sign up for a committee if you did not already do so. If there is an interest in a special committee, please let me know. For our newer members, the sign up sheet for the committees will be available at Orientation should you decide to sign up after the presentation.
A sign up sheet will be available at our May meeting for the Gloucester County Parks and Rec Department for their Summer Kick Off Event at the James G. Atkinson Park on June 11th. This event runs from 11:00 to 5:00. We really only need 6 ladies total for the day. 2 ladies for every two hours. The hours will be 11 to 1, 1 to 3 and 3 to 5. If you have some time and can man our table for two hours, that will be awesome.
I want to recognize all of you for your generosity to the people of Ukraine. When Cynthia H-B. shared the final total of donations, I was just blown away. Not only do we make a difference in our own community, but we have also made a difference halfway around the world. Thank you so very much!
Another event coming up is the June Garden District Meeting. We will be hosting this meeting on June 9th. This is an evening meeting and it will be held at St. Paul's Methodist Church. We are responsible for the building, paper products and liquid refreshments. Other clubs will be bringing the foods.
Please remember that we will have a speaker at our May meeting. Mrs. Sheryl Ratcliffe will be speaking about Nutrition and Chronic Disease, Nutrition and Society, and ways to incorporate plant-based nutrition in our lifestyles. Look for more information in this month's Tidbits.
Also, let's all wear red at our next meeting in recognition of Stroke Awareness month.
This is our last regular meeting at the church this year as our last official meeting will be our installation of officers and dinner. Another club year is almost over but our activities continue to fill our calendars. I look forward to working with you as we keep adding to our schedules and making a difference all around us.
Happy Mother's Day!
April